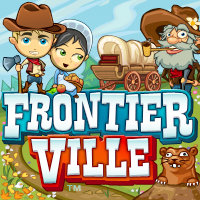 FrontierVille was a game created and developed by Zynga. It was released on June 9th, 2010 and was available to play on Facebook. It was later renamed The Pioneer Trail. FrontierVille (The Pioneer Trail) was closed on April 30, 2015, along with a few other games developed by Zynga.
In FrontierVille, the Frontierman/Frontierswoman (or Pioneer) can tame the wild and create his/her own special Homestead and town. In order to build a thriving frontier town, the Pioneer must first gather the proper resources and clear the land. Chopping Lumber Trees will produce Wood while harvesting Fruit Trees, Animals, and Crops can produce Food, Coins and Energy. After chopping and harvesting, the Pioneer will have to begin constructing Buildings to found a town on the FrontierVille Homestead. The Pioneer is given Goals to help them along the way. The Pioneer won't be alone, as he/she will have a Spouse and a Kid to raise.
In the beginning of the game, Frontier Jack explains the basics of the Gameplay of Frontierville in his tutorial.
Ad blocker interference detected!
Wikia is a free-to-use site that makes money from advertising. We have a modified experience for viewers using ad blockers

Wikia is not accessible if you've made further modifications. Remove the custom ad blocker rule(s) and the page will load as expected.