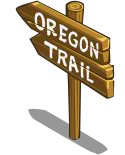 The Oregon Trail was originally hinted at on June 9th, 2010. It was one of the Signposts. On April 26th, 2011, the Trouble on the Trail Goal Series was released, which allowed early access to the Oregon Trail once it was completed. The Oregon Trail was renamed The Pioneer Trail and was released Aug 12th 2011
What To Do
Edit
The Pioneer will need to get three friends to help before leaving on the trail: the hunter, who rustles the food, the carpenter, who fixes things like the wagon, and a doctor to cure the sick.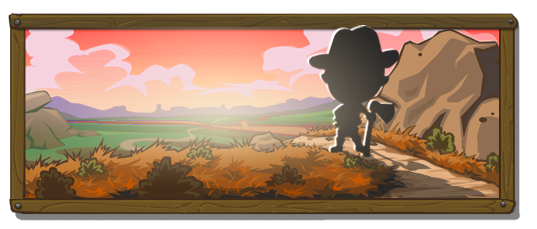 Along the trail, the pioneer can stop at the Beaver Valley, where the Pioneer can interact with friends. Pioneer will also run into wolves and other wild animals, lost pioneers, avalanches, and traders. There will also be social missions, like the Hundred Buckets Brigade mission, and opportunities to gather supplies and goodies to either trade for more missions, upgrade the Conestoga or to send home. The trail will use items like the Medical Kit, Oregon Grape Flower, Medical Journal Page, Oregon Trail Cooties, Oregon Trail Measles, Oregon Trail Picklefinger, Oregon Trail Scoots and Oregon Trail Skunkticks, and allow friends to compete for top spot on the weekly leaderboard before arriving at the end of the trail, Fort Courage.
Ad blocker interference detected!
Wikia is a free-to-use site that makes money from advertising. We have a modified experience for viewers using ad blockers

Wikia is not accessible if you've made further modifications. Remove the custom ad blocker rule(s) and the page will load as expected.