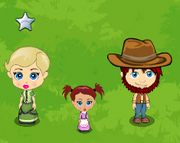 The
Sheriff's Star
appears above the head the
Pioneer
,
Spouse
, or
Kid
, depending on which one has been selected to perform subsequent actions. To change the selected character, click on the appropriate avatar character.
When selected, the male Pioneer/Spouse will say " 'owdy", the female Pioneer/Spouse will say "howdy", and the Kid will say either "Yes Ma?" or "Yes Pa?" (depending on the sex of the Pioneer).
Ad blocker interference detected!
Wikia is a free-to-use site that makes money from advertising. We have a modified experience for viewers using ad blockers

Wikia is not accessible if you've made further modifications. Remove the custom ad blocker rule(s) and the page will load as expected.