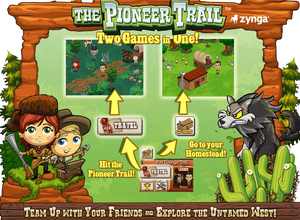 The Pioneer Trail is the expansion and replacement of FrontierVille. It is a much more story based game which follows your exploits to try and save Ezekiel Cobb who has been kidnapped by Bandits the Gratchett gang. Over your journey you visit four locations on The Pioneer Trail map, which are 5X bigger than anything ever seen on FrontierVille before.
These are Beaver Valley, High Plains, Avalanche Pass and Fort Courage. The expansion was released on the Aug 13th 2011 with the second area High Plains being opened two days later.
The Pioneer Trail works very differently to Frontierville. It includes the use of multiple roles which are needed to all be used to complete the trail. The first role is you The Leader. Other roles include The Hunter, The Doctor and The Carpenter.
Beaver Valley Goals Beaver Valley Hidden Goals
Trailer
Learn the words
This article is a stub. You can help the Pioneer Trail Wiki by

expanding it

.
Ad blocker interference detected!
Wikia is a free-to-use site that makes money from advertising. We have a modified experience for viewers using ad blockers

Wikia is not accessible if you've made further modifications. Remove the custom ad blocker rule(s) and the page will load as expected.