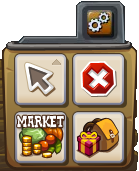 The Tool Panel is a set of icons used to help a Pioneer maintain their homestead in FrontierVille.
List of Tools
Edit
Image
Description
My Tools Menu
Click the My Tools icon to open the My Tools Menu.
Tend Tool is the default cursor. It can be used to Clear Land, harvest Crops, chop Trees, feed Animals, Whack Frameworks and scare/clobber Varmints on a Pioneer's Homestead.
Sell Tool is the tool used to sell Animals and other objects. Some items cannot be sold, only removed.
Rotate Tool is the tool used to rotate objects on a Pioneer's Homestead.
Move Tool is the tool used to move objects around a Pioneer's Homestead.
Store Tool is the tool used to store Decorations in the Storage Shed.
Other
Cancel Tool is the tool used to immediately stop all actions the Pioneer is performing or about to perform.
Market Menu is where a Pioneer can spend Coins or Horseshoes on Crops, Trees, Animals, Buildings, Decorations and Meals. View the Market page for a complete list.
My Stuff Menu
Click the My Stuff icon to open the My Stuff Menu.
Gifts is a menu used to view recently accepted Gifts along with the Neighbor who sent it.
Family Album is a menu used to view a Pioneer's avatar. Spouse avatars and Child avatars are also viewed here. Customizing avatars is also possible from this menu.
Inventory is a menu that displays a list of items a Pioneer has acquired. Accepted Neighbor Gifts, bonus gifts, rewards, and crafted items are stored in inventory.
Collections is a menu of items collected while performing certain tasks. View the Collections page for a complete list.
Missions Organizer is how you can organize your Goals.
Options Menu
Click the Options icon to open the Options Menu.
Quality: Toggle the graphics quality.
Sound Effects: Toggle sound effects on or off.
Music: Toggle music on or off.
Zoom In
Zoom Out
Fullscreen: Toggle fullscreen mode.
Ad blocker interference detected!
Wikia is a free-to-use site that makes money from advertising. We have a modified experience for viewers using ad blockers

Wikia is not accessible if you've made further modifications. Remove the custom ad blocker rule(s) and the page will load as expected.