Wicked Decoratin'

—Image © Zynga
Goal Information
Description
Halloween's coming up. Have you got your homestead decorated for when your neighbors come trick-or-treating?
In-Game Hint
Headstones and Jack o' Lanterns are available in the market. Click on the Jack o' Lantern to acquire the carving tools and to carve a custom face! (You need HEADSTONES, not TOMBSTONES!)
Rewards
XP
200 XP
Coins
250 Coins
Sharing Bonus
Item
1 Carving Knife
Goals
Wicked Decoratin' is one of the Limited Edition Goals in FrontierVille. It was the third part in the Trick or Treat! Goal Series. It was released on October 21st, 2010 and expired on November 7th, 2010.
Pioneer's got the scariest face in town!

Pioneer's carved a terrifying Jack o' Lantern; why not go to Pioneer's homestead and check it out? And there's extra carving knives if you want one.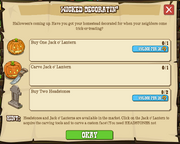 Ad blocker interference detected!
Wikia is a free-to-use site that makes money from advertising. We have a modified experience for viewers using ad blockers

Wikia is not accessible if you've made further modifications. Remove the custom ad blocker rule(s) and the page will load as expected.